Back to Newsroom
9-Apr-2019
Kern County families march to honor homicide victims and remember unsolved crimes
Bakersfield, CA
Kern County's seventh annual Crime Victims' Rights March recalled the victims of unsolved homicides. Five hundred people marched with 140 photo posters of loved ones to take a stand against criminals and crime.
District Attorney Cynthia Zimmer told the marchers, "We know too well that murder not only takes the life of the innocent victim, but it leaves scars and wounds on those left behind. The lives of mothers, fathers, sons, daughters, husbands, and wives are forever changed."
She assured the survivors, "We honor your strength and your courage, and want you to know that you are not alone."
Another speaker was Dr. Mark Perlin, visiting from Pittsburgh-based Cybergenetics, provider of the truth-seeking TrueAllele® computer technology for interpreting complex DNA evidence data. He spoke about "the work we have done with DNA and the District Attorney's Office."
"Most DNA evidence isn't interpretable without a computer. It's a mixture of two or three or six people that can't be separated and analyzed by the human eye. But computers can do that separation, and bring it back into evidence and explain what happened at a crime scene."
"I started working with the Kern County District Attorney's Office seven years ago. I worked with DA Zimmer on a robbery case of serial robberies, where there was a palm print that was left on a counter that was uninterpretable evidence. When the computer separated out that DNA, it identified who the robber was and resulted in his conviction."
"I worked with DA Zimmer again five years ago in the Billy Ray Johnson case, where there were very low levels mixtures of DNA that were not useful as evidence. Dozens of items from the crime scenes, that when the computer was able to separate it out, told police and prosecutors what had happened, and whose DNA [it was], as victims were left together with the assailant. And the serial rapist was convicted."
"I testified in Riverside a few months ago in a case where a teenage girl was abducted and murdered walking home from school. And evidence was found where she was abducted – her earrings. That evidence had a mixture of DNA uninterpretable by the crime lab. [The earrings] had her assailant and her DNA, and when the computer separated [the mixture], it identified the killer; he's been convicted."
"The reason this is all possible in your county is that you have one of the best crime labs I've ever seen, working in your District Attorney's Office." (Applause for lab)
"They have phenomenal technology. They know how to use it, and by using it routinely and regularly they, your police, and your prosecutors achieve in courtrooms what other counties can only dream about in resolving crimes and achieving justice. You should be very, very proud of them."
The Kern County Regional Crime Laboratory was the first in the United States to use sophisticated "probabilistic genotyping" to solve previously unsolvable DNA, launching their TrueAllele system in October of 2013.
Other Crime Victims' Rights Day speakers were St. Francis Monsignor Craig Harrison, Bakersfield Mayor Karen Goh, Bakersfield Chief of Police Lyle Martin, and mothers of murdered or missing children.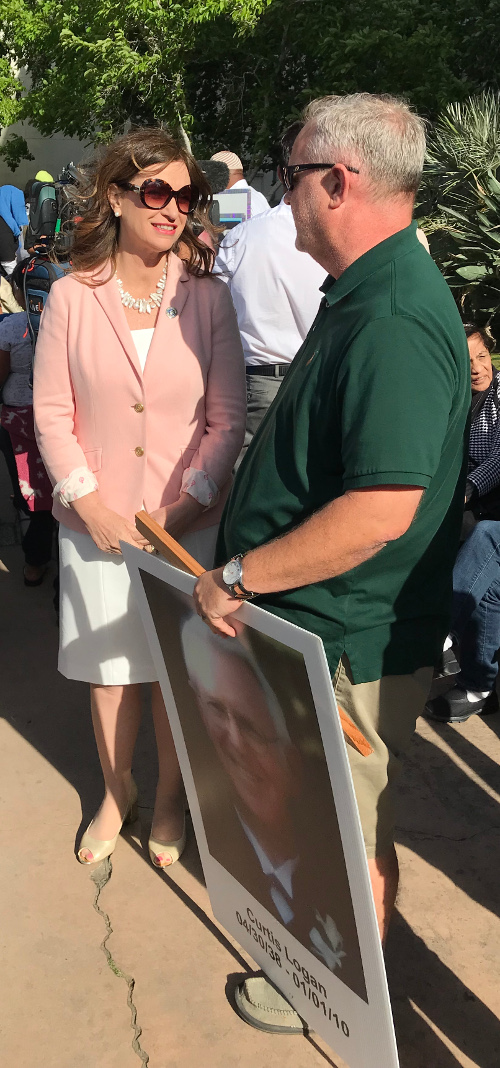 Links
Back to top