Back to Newsroom
26-Nov-2019
Historic TrueAllele CODIS search frees Lydell Grant from Texas prison
Houston, TX
In July of 2011, the Houston Police Department (HPD) crime lab couldn't interpret mixed DNA from the fingernails of fatally stabbed Aaron Scheerhorn. Without DNA to prove his innocence, defendant Lydell Grant was convicted of murder, receiving a life sentence.
In March of this year, Cybergenetics reanalysis of the crime lab's DNA data showed Grant wasn't on the fingernails. Instead, their TrueAllele® supercomputer revealed the DNA type of an unknown man.
Cybergenetics then coordinated an unprecedented search of the FBI's DNA database that identified Scheerhorn's likely killer. Based on this TrueAllele proof, after seven years in prison, Lydell Grant was released.
Most DNA evidence is a mixture of two or more people. Crime laboratories can test a mixed sample, transforming biological evidence into electronic data. However, they usually fail to fully interpret their data.
"I could not make a conclusion," testified an HPD forensic analyst at Grant's 2012 trial. Failed interpretation discards important DNA evidence as "inconclusive." This pervasive failure has silenced crucial evidence for twenty years, affecting millions of DNA samples.
The FBI's COmbined DNA Index System (CODIS) is an invaluable forensic database that houses DNA profiles from over fourteen million convicted offenders. But failed mixture interpretation means that much crime scene DNA evidence never gets onto CODIS. The database can't compare criminals' DNA with evidence it doesn't have. Crimes go unsolved.
FBI policies try to overcome failed interpretation by blocking complex DNA evidence from ever reaching CODIS. "Ultimately, the success of the CODIS program will be measured by the crimes it helps to solve," says the FBI. Not by the evidence it lacks.
Twenty years ago, Cybergenetics invented a better way to interpret DNA mixtures using computers. Instead of silencing uncertain evidence, TrueAllele's "probabilistic genotyping" embraced scientific uncertainty to better explain DNA data.
TrueAllele statistically excluded Grant from Scheerhorn's fingernails with a one in ten trillion likelihood ratio. The computer's successful interpretation of the HPD's data found someone else – not Grant – on the fingernails. This unknown person's DNA will match the evidence at the ten trillion level.
Working with a South Carolina crime laboratory that uses TrueAllele, Cybergenetics organized a CODIS search of the fingernails' unknown DNA type. Rigorous procedures were followed that conformed to FBI database upload restrictions.
FBI assistance enabled this historic CODIS search. Their help let TrueAllele prove a man's innocence with DNA information that the HPD lab had missed.
"That is really the point of using computers to infer genotypes and quantify the match information," said Cybergenetics speaker Dr. Mark Perlin at the 2012 American Academy of Forensic Sciences meeting. "Fully informative investigative DNA databases preserve information in the ways that we now expect."
Based on the new TrueAllele information, Executive Director Mike Ware of The Innocence Project of Texas, and Harris County District Attorney Kim Ogg, agreed on the following exculpatory DNA facts:
"Had the results of the post-conviction DNA testing and the comparison of the DNA profile resulting in the CODIS match information been available during the trial of the instant offense, it is reasonably probable that he would not have been convicted."
Having met the "reasonably probable" standard of Article 64.04 of the Texas Code of Criminal Procedure, Lydell Grant was released. The police investigation into Aaron Scheerhorn's murder continues. Their investigation is aided by the TrueAllele CODIS hit, which identified a likely suspect.
Executive Director Ware said, "This case is without a doubt historic. Thanks to Mark Perlin and Cybergenetics, the Innocence Project of Texas was able to fully utilize the TrueAllele software and the CODIS database in a way that has never been done. We were able to develop overwhelming evidence of Lydell Grant's complete innocence, by excluding him as a contributor to the DNA mixture profile and by identifying the likely actual perpetrator of this murder."
Millions of under-interpreted DNA evidence items have not made it onto CODIS. Untold thousands of innocent people could reach justice through this untapped evidence. TrueAllele reassessment of dusty DNA data, with FBI cooperation, can now search for truth through CODIS. As Grant's case shows, there is much to be done.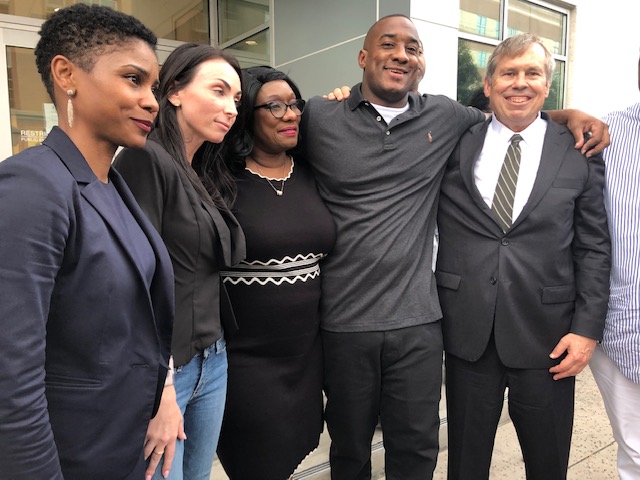 Links
Related Media
Lydell Grant, convicted in 2010 Montrose slaying, freed from prison as case is reinvestigated - Houston Chronicle
Texas inmate freed while innocence claims investigated - Associated Press
Texas man convicted of 2010 murder released from prison while new DNA evidence is examined - CBS News
Back to top